The town of Blackburn, in Lancashire, with its high number of low-income households, is one of the areas hardest hit by the cost-of-living crisis. The BBC's Alex Forsyth met people there to find out how they are pulling together to help each other through.
Today's article comes from the BBC news and is a great example of community kindness. A huge shout out to Blackburn!
On a freezing morning in Blackburn, the volunteers at Ivy Street Community Centre are determined to keep the atmosphere warm.
They sort through trays of fresh food laid out on trestle tables, putting vegetables, pies and packets of porridge into bags ready for people in the neighbourhood who are struggling to get by.
Christine Connell, who runs the centre, has been working in the local community for 37 years, and says the need seems greater than ever.
"I see worry," she says. "When somebody's got no gas or electric and they're freezing, I give it to them out of my own pocket. I see poverty. A lot of poverty."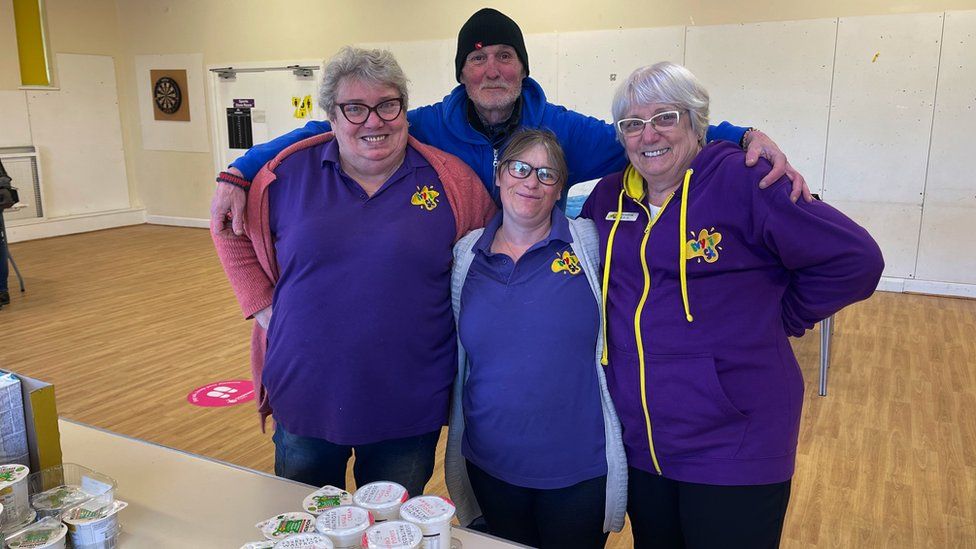 Every Tuesday the free food parcels are either collected or delivered by Christine and her team.
"When you go round you can see the tears in their eyes," she says. "If it's someone with a baby we have nappies. It's sanitary wear. The basics.
"And people are struggling that are working. You wouldn't think somebody working would need help but they do, because their bills are so high."
Inflation has affected people right across the UK, but according to the Centre for Cities think tank, places like Blackburn, where people on lower wages spend more of their income on food and fuel, have been hit particularly hard.
'I still want to live'
A five-minute drive from the community centre, a singing session is under way at Albion Mill, an extra-care housing facility that opened shortly after the pandemic.
Run by the local branch of Age UK, the "talk and tunes" group is open to residents and people living nearby, to provide free companionship and support.
For 82-year-old Valerie, who lives alone, it's a chance to get out of her home without spending money.
"All the food is going up," she says. "It's getting too much. I only get a state pension. It's taking the biggest part of that, and then I have to pay my rent and there's no money left.
"You can't go out, you've got to sit in your own four walls and I don't like it. I think life is for living. I've got MS and it does hold me back, but I still want to live."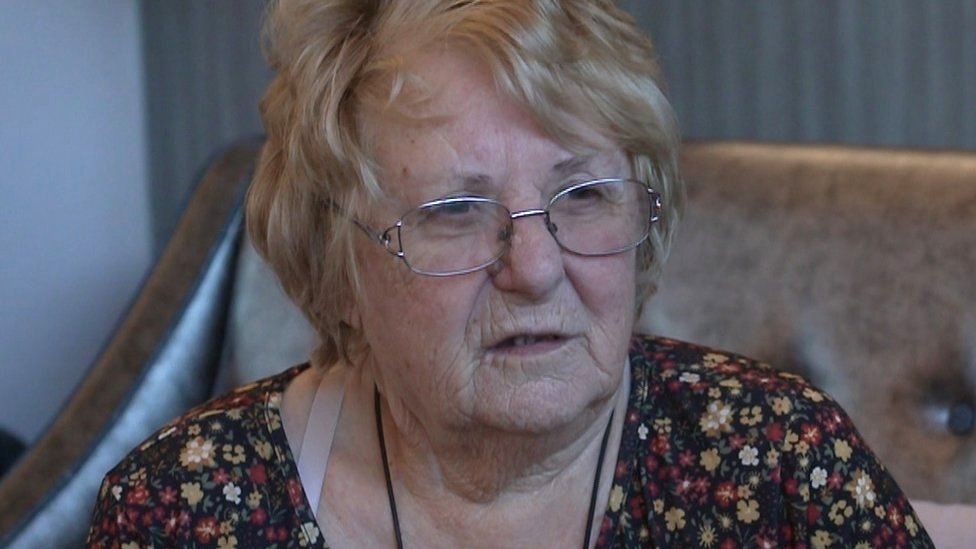 The Blackburn with Darwen branch of Age UK says the demand from people seeking support from its local advice service between April and September last year increased by 80% compared with the same period the year before, mostly related to people struggling with money.
"One of the things we're trying to do is reach people who wouldn't usually come for advice and support", says chief executive Vicky Shepherd.
"Those people who have been managing and were OK are now really being impacted by the increased costs, because most pensioners live on a fixed income," Vicky explains.
The government has provided support to households and businesses to help with spiralling energy bills, and made extra funding available to councils to give to the most vulnerable people through what's called the Household Support Fund.
In Blackburn, Jubilee Tower Credit Union is one of the local organisations that helps allocate that pot of money.
In the past nine months it's given out 5,700 payments, totalling more than £500,000.
Chairwoman Janice Parker says people are "actively making choices between heating their homes and eating".
She adds: "They're worried about the fact direct debits for fuel costs have gone up, and whether or not they can afford them.
"We're getting people who have their own houses, they have good jobs, but they still need that support. On one level I feel angry, on one level quite sad but I think frustration is the biggest area.
"We are very lucky here in Blackburn with Darwen that we have so many different organisations working together."
'You can hear it in their voices'
With demand so high, Blackburn with Darwen Borough Council has ramped up a helpline which it originally set up during the Covid pandemic, bringing in staff from across the organisation to answer the phones.
In one of its call centres, five council workers wearing headsets are taking and making calls to people who've applied for extra support – on average about 300 phone calls are made and received each week.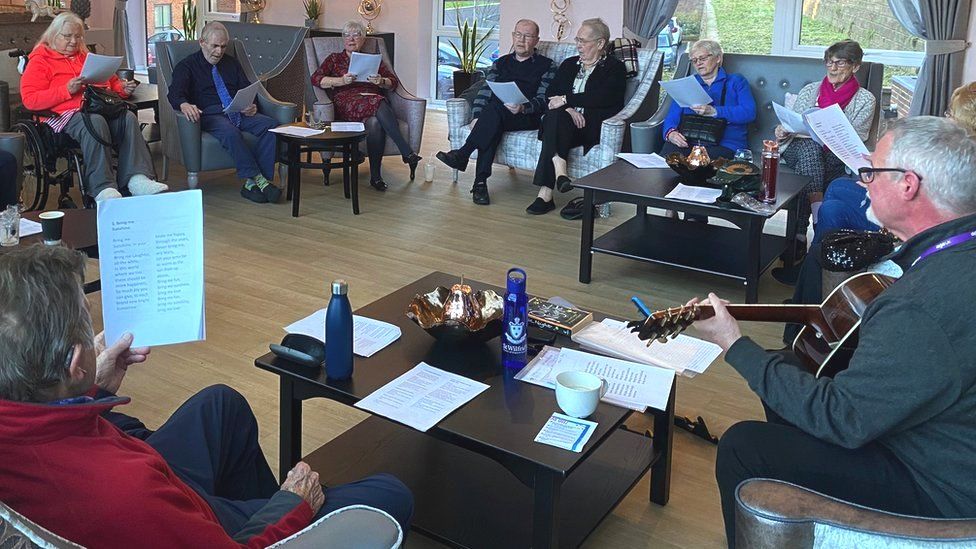 Emma Mercer is one of the council's "community connectors", who describes what one woman told her.
"She's got £3.40 left on her meter at the moment and her daughter has an eating disorder and she can't afford food properly", she says. "So we're going to try and get her a bit of food, help her with her utilities a little bit."
Emma says it can be tough listening to the circumstances some people are facing.
"You can hear it in their voices when they're speaking to you that they're not used to reaching out for help," she says.
"It's exceptionally difficult to hear that type of thing, but at the same time you know you're doing something for them – even if it's getting them a little bit of food and making sure they can put the gas on to cook their food."
The council can offer money to people who are eligible using funding the government has made available, but resources are finite, so they also refer people to one of the other organisations working across Blackburn to plug the gaps.
They can provide food, furniture and white goods, or help and advice managing finances and household bills.
Shuiab Khan runs the Bangor Street Community Centre, which has just started a weekly "warm evening", offering free food and a warm space to anyone living nearby.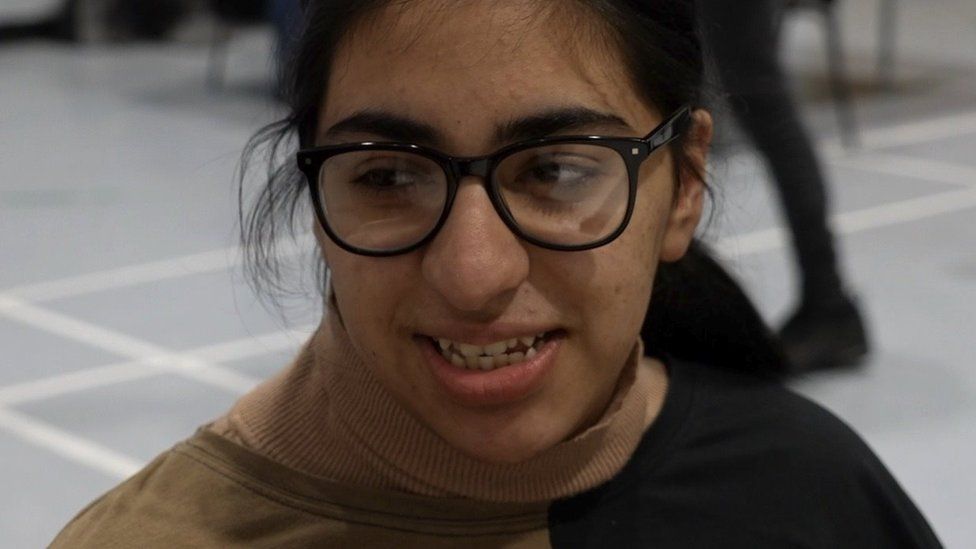 On the first evening, about 100 people turned up within the first hour.
"The idea was to get people out of their homes, to save energy and to give people a free meal," Shuiab says.
Sisters Mehak, 15, and 12-year-old Kiran arrived with their aunt: "It just feels like you're part of some big family to be honest," Kiran says."You're surrounded by people who you know and just people who really understand you."
References:
(accessed 21/01/2023)